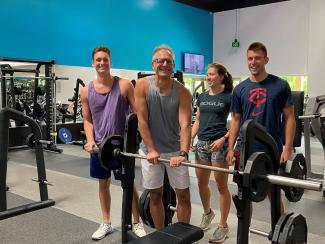 Team & Technology Updates
Spring 2022
We are constantly trying to improve our game here at the firm. This is what our folks are up to.
Garrett Grigas (Financial Advisor): Is as obsessed with finance as almost anyone I have ever met (even me!)
He is constantly reading and researching for his own intellectual curiosity, and to become a better advisor for our clients. Garrett holds the CFA designation, and now has years of experience here. He is leading our portfolio design, implementation, and research, and he and I are sharing duties on client planning and review meetings.
On a personal level, Garrett is a road warrior and loves to travel. He and the team just came back from a long work from home experiment in Tulum Mexico. It was quite fun for them and proved to be productive from a work perspective. The group is already planning their next remote work location. Garrett is also a monster in the gym. The team often lift weights together after work, and he has led us in some unusually painful sets!
Trey Gevers (Financial Advisor): Also a member of the "unusually obsessed with finance" club. Trey passed his Series 7 & 66 certifications last year and is currently immersed in the CFP program. Trey is responsible for income tax analysis reviews for clients, runs our retirement analysis software projections, and portfolio analysis. You will also see him helping in client meetings with Garrett and myself. He is growing rapidly in financial knowledge and experience. It probably helps that he opened his first investment account in grade school and grew up in a family where finance was a popular topic.
During his free time Trey looks for adventure. He and his sister climbed Mount Kilimanjaro last summer, did a 25-mile one day thru-hike of the Enchantments, and is planning to run a marathon this year. He is also an avid poker player, snowboarder, and drone pilot. He is all gas no brakes.
Gabrielle Gevers (Client Services Associate): Finished her master's degree last spring Summa Cum Laude. She joined us full-time right after graduation, but also has been working here on and off all through school.
You have may have talked to her often as she is handling charitable gifts, tax questions, 529 plan funding, and many other functions. She is deeply involved in operations and is helping to run things more efficiently and smoothly and has also been helping us revise and update our systems to comply with new federal rules and regulations. Gabrielle will also be very involved in our technology update. (See notes below.) She is also arguably the nicest and sweetest person in the office ?
Outside of work Gabrielle has eclectic interests. Climbing Mount Kilimanjaro, diving through underwater cenote tunnels in Mexico, cooking Tanzanian food, handcrafting food and crafts, bow-hunting for elk, volunteering with a foster family, long weight workouts in the gym, and reading weighty books on theology. She is mindful, thoughtful and a fascinating person to have a conversation with.
Kristy Brown (Client Services Associate): We have missed her for some time as she had been taking care of a family member who was ill. Kristy and her husband Pat relocated to Boise a couple of years ago and are delighted with their new state. She is going to be re-joining us from time to time filling in during staff vacations, and busy periods like tax time, and year-end. We will enjoy the opportunity to work with her again!
Anna Williams (Client Services Associate): Is another of our remote team-members, as she and her husband Josh are in northern CA. She is the devoted mom of two small children, and works for us, when the kids are asleep – usually later in the day! Anna is very gifted at math and with processes and numbers and has a wealth of operational experience in investment management. We are grateful for her work and talent as she juggles the responsibilities of a growing family.
Barbara Stocking (Bookkeeper): Is instrumental and essential with our bookkeeping, finances, and administration, and we are very grateful for her attention to detail, accuracy, and great work. Barbara is also an interesting person! Former bike racer and collegiate swimmer, nowadays she and her husband enjoy traveling and riding their e-bikes ?  
Willy Gevers (Financial Advisor): I spent much of last year taking a program through the Yale University School of Management Executive Education focusing on tax and wealth management issues for high-net-worth families. Super interesting but I must admit that I'm very happy to have more free time this year, as lost a lot of weekends and evenings to class and studying!
I'll be focusing more of my planning time helping our clients with stock option, restricted stock, and single stock planning issues, and estate tax planning strategies.      
I'm also trying my best to keep up with the rest of team in the gym! We have some fitness goals we are trying to achieve this year; "Bring Sally Up" pushups challenge, The Murph Challenge (https://themurphchallenge.com/pages/the-workout) and my lovely wife and our Executive VP Vivienne and I are planning another weeklong backpack trip on the Pacific Crest Trail this summer.