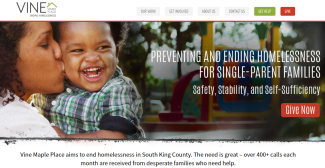 For our Clients: Team Updates
Summer 2023
Happy Summer – hope that you are all enjoying the amazing Washington sunshine!
We are making a few adjustments to our team and have some updates that we wanted to let our clients know about.
Gabrielle Gevers will be reducing her schedule and working here only on Mondays & Fridays. She has an incredible opportunity to counsel homeless, single-parent families through the non-profit Vine Maple Place. Many of you know that she earned a MA MFT Summa Cum Laude from Fuller Theological Seminary in Pasadena, CA, and she has a heart and passion for helping the broken and downtrodden. 
On the days that she is in our office, Gabrielle remains dedicated to serving our clients with care, attentiveness, and kindness. The rest of the team will be available to help with your questions and service needs through the remainder of the week. Ask Gabrielle about the counseling work she is involved in the next time you see her! 
You can read more about Vine Maple Place and their work with homeless families here:  https://www.vinemapleplace.org/
Trey Gevers has been heading up our technology initiatives, and we are enjoying the benefits of his great work. Trey is also running income tax analysis, and most of the retirement modeling software. You might expect a discussion about your marginal income tax bracket, your income withdrawal strategy, or perhaps a partial Roth IRA conversion with him at your next scheduled review meeting.      
Trey has also been obsessively working on his golf game, has been competing in local pickleball tournaments, remodeling his home, and will be traveling to Italy with his lovely wife Nicole in September. They have an ambitious travel itinerary and lots of sights to see and tasty food to eat. Thanks for all the great suggestions from those of you have been to Italy before.  
Garrett Grigas has just been elected treasurer of the CFA Society Seattle chapter. This is a great honor and a remarkable achievement, as the CFA group includes many of the brightest and most successful investment managers, analysts, and investment professionals in this region. Huge kudos to him for having the honor of helping this group manage their finances and lead the investment board for their endowment.
Garrett has also recently presented seminars on investment principles for several organizations, including a real estate investment group, at a local church, and an association for retirees. On the recreational side he took his SCUBA certification class, fished for salmon from a paddleboard in Puget Sound, and competed in a marathon open water race in Lake Washington… all in the last few months!   
A big welcome to Milo our newest team member, who officially joined the office this spring. 
He oversees chewing on any clothing within reach, sharing any food that might be available, and granting unlimited amounts of unconditional love to all. Milo is only "working" for us part-time, but you might be fortunate enough to meet him your next trip to our offices.
I have been focusing my professional time on business planning, new clients, and more advanced wealth planning, and teaching. I just did a presentation on trust planning for the personal homes of very high net worth families, and still very much enjoy teaching on wealth management principles!  
Garrett and Trey have been stepping into a bigger role serving our clients by taking over more of the regular review meetings. This allows me to spend more time on some of the aspects of wealth management that I really enjoy, like reading, writing, and learning more about tax, retirement, and investment planning strategies that might make our client's financial lives better off. 
I'm working a little lighter schedule than year's past, because of our whole team's able expertise and 
professional capabilities. We have an amazing team here, they are smart, hardworking, and they are good people!   
I will be out for about a week at the end of August as my wife and I are preparing to once again do our annual Pacific Crest Trail backpacking adventure. If all goes per plan and we stay away from forest fires, we will be hiking from Stevens Pass to Stehekin on the PCT. Pictures and stories to follow in a future newsletter!
Our best summertime wishes to you and your family! Our dedication and goal remains your financial success and prosperity, and we look forward to our next meeting with you. We will have lots to talk about regarding tax planning, the markets & your investment portfolio at our next cycle of client reviews.
Warm Regards,
Willy Gevers 
Copyright 2023 William R. Gevers, CPWA®
All rights reserved.
Gevers Wealth Management, LLC
5825 221st Place SE, Suite 102
Issaquah, WA 98027
Office: 425.902.4840
Fax:     425.902.4841
Email: info@geverswealth.com 
Website: www.geverswealth.com 
The views are those of Gevers Wealth Management, LLC, and should not be construed as individual investment advice. All information is believed to be from reliable sources; however, no representation is made as to its completeness or accuracy. All economic and performance information is historical and not indicative of future results. Investors cannot invest directly in an index. Please consult your financial advisor for more information. This material is designed to provide accurate and authoritative information on the subjects covered. It is not, however, intended to provide specific legal, tax, or other professional advice. For specific professional assistance, the services of an appropriate professional should be sought. Past performance is not indicative of future results. All investing involves risk, including the potential for loss. No strategy can ensure a profit or protect against loss in a declining market. Securities and advisory services offered through Cetera Advisor Networks LLC Member FINRA/SIPC a broker/dealer and a Registered Investment Advisor.  Cetera is under separate ownership from an any other named entity.