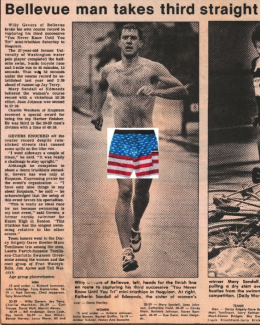 My Brief but Happy Life as a "Professional" Triathlete – and How I became a Wealth Manager
(an old article – speedo covered up to be polite.)
Fall 2021 
My kids like to tell people that I was a professional triathlete.  I laugh at that, but there is a tiny grain of truth there. Since it's Labor Day, it's fun to reflect back on my triathlete season which set the stage for my lifelong career in, and passion for wealth management. 
While attending the UW Foster School of Business I became completely obsessed with the then brand new sport of triathlon.  I ran track in high school and played water polo in college and loved to workout, and so this quirky new endurance sport immediately fired up my competitive fervor, and I became convinced that I could be quite good at it. 
I have a tendency towards obsession and a drive for excellence, and in my teens and twenties that passion was for sports and fitness. I worked out hours per day, including riding my bike to school several days a week from my parents' south-end home to my classes at the UW, long runs on weekends, and several times per week I would run a lap around Green Lake and then leave my shoes in a tree and swim across the lake and back.  That was back when you didn't have to worry about your shoes getting stolen and Green Lake was still pretty clean.  I had a few close calls with the crew team as back then it was extremely unusual for someone to swim across the lake, which I was doing regularly. 
After graduating, I decided to commit fully to triathlon and took a part-time position at the downtown Seattle Athletic Club as a triathlon & swim coach. I put my biz school training to good use, negotiating a deal to take a part of the revenue of the monthly fees of the athletes on the team in lieu of hourly pay, and quickly grew both teams to waiting list-only, and became one of the highest paid employees (at least on a per-hour worked basis.) 
I trained for daily for hours in the offseason, and summer weekends were spent competing in triathlons around the Northwest. I did over fifty triathlons, and enjoyed modest success winning a few races and collecting a few age group trophies, and usually finishing near the front. Also earned a little bit of celebrity, as the new sport was a novelty and gathered a fair amount of media attention. I appeared in some TV ads, scored some modeling gigs, wrote articles and was invited to teach classes about triathlons. A well-known builder (Davidson Bicycles) built me a custom bike, and some sports companies sent equipment and gear. It was a minimal living, but enough to allow me to train and race full-time.  
Bicycling Magazine – don't laugh, it paid the bills! 
I started developing some other skills, which proved to be valuable later in life, discovering great joy in teaching, coaching and helping others. A semi-shy geeky college student grew to a confident outgoing, public speaker, and coach and trainer of athletes that were mostly successful business people and members of the downtown Seattle Athletic Club. 
Here's where the "professional" athlete part of the story comes in. I opened my mail one day, and to my great excitement, I found an invitation to race in the pro class in the USTA national  race series, which was being held that year near Portland, Oregon. My good results had earned me the invite, and I was ecstatic to have the chance to race with the big boys and girls in the premiere race series of that time, the Bud Light US Triathlon Series. 
That USTA race was golden, (almost) everything went right for me that day, and the memory is still vivid and razor sharp in my mind. It was a big field, about a thousand competitors, and a sizable throng of spectators. This race was run in heats, and the top seed, the pros, started first.  
There were about thirty of us in the pro heat. We treaded water in the early morning sunshine and waited for the start while fans cheered, the media filmed, and the other triathletes waited their turn. I was slightly awestruck as many of the women and men in the water next to me were on the covers of my tri magazines. It was a heady experience to be competing with the best in the US. 
Triathlons begin with the swim, and are usually a thrashing melee. This start was completely different. When the gun went off, we formed up into pacelines and I quickly linked up with a dozen others who all swam in formation to take advantage of the draft. The sun was bright, the water clear and warm, and the 1500 meter swim was quickly over. My group hit the beach enmasse and we scrambled up the ramp to the transition area and our bicycles. 
Wetsuits were not yet in vogue, and the entire race was completed in your swimsuit (Speedos!) We grabbed helmets and sunglasses and within seconds the pro field was on the bike and zooming onto the course. I had great power on the cycle that day, my training paid off as the 40km (~25 miles)  was over in about an hour. Early in the bike leg recognized the previous year's Ironman female world champion, Kathleen McCartney, while passing her. 
Endurance sports are funny, some days you feel incredible, and sometimes no matter how much and well you have prepared and trained, it's just not your day. As I left the transition area of the run, I knew it was my day, and could feel that my legs were strong. My pace was a high 5 minute per mile for the 10km leg (6.2 mile) on a hot and hilly course. It was almost a perfect race to that point, a fast draft group in the swim, quick bike, and now running at my personal best pace! 
Racing in the lead pack, and especially leading a race is a crazy good feeling and quite addictive. I craved that rush, and was delaying my career and forgoing financial objectives to keep chasing that high, and on that day on the course in Oregon I was sky high as I was near the lead in one of the biggest races in the country.  
There was one last hill as we approached the finish line. The crowd started cheering louder and I could tell that someone was closing in on me. I went deep into the pain cave, but my best was not enough and the other triathlete passed me at the crest of the hill and went on to win the race, with me finishing a few steps back. 
So here is the rest of the story…  the triathlete who passed me won the women's professional division, and was that year's national champion. I placed near the bottom of the pro men's division, despite having my best race ever.  After several years of complete dedication and commitment, it became clear that I was not destined to be a top men's pro, and not long afterwards I decided to start my professional work career.   
My triathlete years while not financially lucrative, were invaluable in shaping my character and taught me important life principles like goal setting, hard work and perseverance. Most significantly the self-realization that I wanted to have a vocation that included helping and teaching others. I joined one of the largest financial planning firms in the state not too long afterwards, became a principal, and then left to start my own firm in 2005. 
My one and only pro race did not go quite as planned, but looking back I am very grateful for that very talented women professional triathlete who beat me, as she helped convince me to change my course which led me to this profession I enjoy so much.  
Then – I thought constantly about and obsessed over how to swim more efficiently, bike faster, and run faster splits. 
Today – I think constantly about and obsess over how to optimize investment portfolios, help our clients accumulate more wealth, reduce taxes, and help them meet their goals. Wonderful memories then, and a wonderful career now ?  
That's my 2021 Labor Day and career story!  
As we celebrate our work and careers, I wanted to share with you some professional and personal updates on our outstanding team, and how we are working for you.  
GWM Team Update 
Our clients have had a wonderful year, and our firm has as well. We have enjoyed especially robust growth the last two years – a big Thank You! for referring your friends, neighbors and colleagues.  
We all consider a referral the best type of compliment and are grateful for your trust. As we grow, we are making some changes and additions to continue to best serve our dear clients. 
Garrett Grigas CFA – has been leading our investment team and technology tools. Garrett reads investment books at night for fun, has many friends in the greater Seattle tech and finance community and thus has a wealth of knowledge and wisdom. He has been taking over more of our client meetings as the firm grows, and is an invaluable part of the team.  
When not studying finance in his free time, he can be found at the gym where he is renowned for his soul-crushing ab workouts and long bench press sets ? He is also the most world traveled of our team, but with CV some of his planned adventures are on the back-burner for now. Ask him about his next trip when you see him! 
Kristy Brown – Works remote from Boise, and has stepped back from some of her work duties in order to take care of her mother who is ill. You won't be hearing from her much, but she did just come back from Idaho for a couple of days for operational training with the team. I admire and respect her devotion to her family, and we are doing everything we can to accommodate and help. 
Trey Gevers – graduated with a degree in Business, and has passed all his financial certification exams. Trey worked diligently studying for his certification exams during his senior year and passed them shortly after graduating, which is an unusual accomplishment as it takes most people several months of dedicated study! It probably helps to grow up in a home where we talked investments around the dinner table ? Trey has been immersed in research, and is also taking over much of the operational tasks from Kristy, and helping with some of the planning meetings. He is taking additional certifications and is rapidly growing in financial wisdom. 
Trey's hobby (one of them) is drone videography and he has been bartering his video skills to help pay for exotic vacations. He recently went to Turks & Caicos at the invitation of a hotel and a charter boat company, and he and his sister summited a major peak this summer. 
Gabrielle Gevers – is back from grad school and completed her master's in counseling Summa Cum Laude! Many of you remember her as she worked part-time for us through her school years, and I am delighted that she has decided to come back full-time. Gabrielle is already an experienced investor as she opened her first investment account when she was an elementary student. She is an exceptionally quick study and is diligently learning all the systems and procedures and will be a big part of our team.     
She is also a renaissance woman and outside the office you might find her reading Kierkegaard and C.S. Lewis, lifting weights, backpacking, bowhunting with her compound bow, volunteering with foster children, preparing a fabulous Thai food meal, or mountain climbing. She is also a real estate investor and currently rehabbing a duplex.     
Anna Williams – works part-time remotely for us as her husband Josh is in the military. She has a long and deep background on the operational side, as well as being extremely intelligent and gifted in math and logic. Anna's primary job is taking care of her two adorable little sons. We are grateful for her experience and help, and hoping that maybe one of the next transfers might be back to the Seattle area!  
Barbara Stocking – diligently and tirelessly works behind the scenes. I am grateful for her expertise in taxes, benefits and bookkeeping, and her competence and loyalty – thanks for keeping us in compliance! Barbara and her husband enjoy traveling and are having a lot of fun this summer on their new e-bikes ?  
Willy Gevers – no longer doing triathlons, I enjoy studying and sharpening my skills and knowledge and have been taking a class on tax and executive stock compensation strategies through the Yale School of Management Executive Education program. I'll be focusing more of my planning time helping clients with complex stock option, restricted stock and single stock planning issues. 
On the personal side, my lovely bride Vivienne Gevers (our VP of strategy) and I just came back from our annual Pacific Crest Trail section backpacking trip, and I am closing in on my 2021 fitness goal of doing twenty pull-ups in a row! 
Vivienne and I on the PCT trail. 
It is a pleasure and joy to work with such an incredible group of dedicated, smart and interesting people, and we are all focusing our labors on serving you, and remain completely committed to helping you reach your goals.       
Our best wishes for a wonderful Labor Day to you and your families and we look forward to our next meeting. 
Willy Gevers  
PS: We have been repeatedly asked by clients if they could share these e-mail notes with their friends or neighbors. Please feel free to forward this with the stipulation that it may only be forwarded if done so in its entirety with no portions omitted. We would be delighted to share our comments and opinions with your friends and welcome your comments and feedback. If you received this and would like to be included on our newsletter list, please email us at info@geverswealth.com 
Copyright 2021 William R. Gevers. All rights reserved. 
Gevers Wealth Management, LLC
5825 221st Place SE, Suite 102
Issaquah, WA 98027
Office: 425.902.4840
Fax: 425.902.4841
Email: info@geverswealth.com 
Website: www.geverswealth.com 
The views are those of Gevers Wealth Management, LLC, and should not be construed as individual investment advice. All information is believed to be from reliable sources; however, no representation is made as to its completeness or accuracy. All economic and performance information is historical and not indicative of future results. Investors cannot invest directly in an index. Please consult your financial advisor for more information. This material is designed to provide accurate and authoritative information on the subjects covered. It is not, however, intended to provide specific legal, tax, or other professional advice. For specific professional assistance, the services of an appropriate professional should be sought. Past performance is not indicative of future results. All investing involves risk, including the potential for loss. No strategy can ensure a profit or protect against loss in a declining market. Securities and advisory services offered through Cetera Advisor Networks LLC Member FINRA/SIPC a broker/dealer and a Registered Investment Advisor.  Cetera is under separate ownership from an any other named entity.