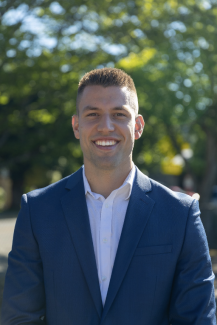 Congratulations Trey! – What's with all the C's?
Summer 2022
Great news! Happy and proud to announce that Trey Gevers has passed the CFP® exam!
His achievement is even more notable in that the CFP Board recommends 18-24 months study time to prepare for the rigorous seven-hour exam. Trey started last fall and successfully completed the coursework and the exam in about 9 months. It probably helped that he grew up in a family where we talked finances and investments, and that he opened his first investment account when he was in grade school!
Trey is on a great trajectory and growing rapidly in his skills and experience. Our clients will get to take advantage of his proficiency as he will be doing much of the income tax analysis for year-end planning, and he will be running our retirement financial planning software projections. We are very proud of his accomplishments – and he is happy to have reclaimed some free time to golf and play pickleball this summer!   
What's With all the C's?
We have 3 C Certifications held by advisors at our firm: CFP®, CFA®, CPWA®
What do all those C's stand for?
What is the CFP®?
CFP® professionals take a holistic, personalized approach to bring all the pieces of your financial life together. As part of the CFP® certification, CFP® professionals also have made a commitment to CFP Board to act as a fiduciary when providing financial advice to a client. This means they have agreed to put your best interests first, so they can provide you confidence today and a secure tomorrow.
The two-part education requirement includes both completing coursework on financial planning through a CFP Board Registered Program, and holding a bachelor's degree or higher, and then finally passing a rigorous 7-hour exam covering seven financial disciplines; Estate Planning, Risk & Insurance Planning, Investment Planning, General Financial Principles, Retirement Planning, Income Tax Planning. The CFP Board reports that the pass rate has historically been in the high 50 to low 60 percent range indicating how tough this program is.
CFP® professionals have training to provide advice and help with retirement planning, investment management, estate and charitable gift planning, cash management, and insurance and risk planning.
What is the CFA?
A chartered financial analyst (CFA) is a globally-recognized professional designation given by the CFA Institute, (formerly the AIMR (Association for Investment Management and Research)), that measures and certifies the competence and integrity of financial analysts. Candidates are required to pass three levels of exams covering areas, such as accounting, economics, ethics, money management, and security analysis. Each exam is offered only once per year, so the total program takes at least three years to complete.
The CFA Institute reports that from 1963 to the first half of 2022, more than two million candidates have sat for the Level I, with 291,500 candidates ultimately going on to pass the Level III exam, representing a weighted average completion rate of around 11%. The pass rate for each exam has historically been below 50% making it the most difficult of the financial certification programs.
Chartered Financial Analysts have comprehensive training in financial analysis, security selection and portfolio construction and management. The designation is held by top financial professionals at major investment management firms, investment banking, hedge funds and banks.
What is the CPWA?
The Certified Private Wealth Advisor CPWA certification is designed for wealth managers who work with high-net-worth individuals. These professionals focus on wealth accumulation, preservation, and distribution, and the special needs and issues surrounding families and individuals with large amounts of wealth.
Granted by the Investments & Wealth Institute™, the CPWA® certification means you're working with someone at the forefront of advanced wealth management trends and strategies. CPWA certification programs are conducted with Yale University or University of Chicago Booth School of Business and follow a curriculum where intellectual rigor, engaging teaching, and cutting-edge research meet. According to the IWI Institute, the pass rate for the exam is normally in the 60% range.
CPWA® professionals understand the specific challenges of high-net-worth individuals and use that knowledge and training to help them monetize and protect their assets, reduce their tax
burden, optimize growth, and transfer wealth. They are experts in executive benefits and retirement planning, stock and stock option compensation programs, portfolio management, family dynamics, asset protection, charitable giving, and estate planning. 
Our team has collectively spent thousands of hours studying to keep our skills sharp and our financial knowledge fresh and relevant, with the goal of providing sound advice and financial wisdom to our clients. We are excited and committed to help our clients work towards accomplishing their financial goals and objectives.
We can raise a toast to Trey and celebrate with him the next time we see you! Hoping you and your family are enjoying the summer.
Warm regards,
Willy
William R. Gevers, CPWA®
Financial Advisor/President
PS: We have been repeatedly asked by clients if they could share these e-mail notes with their friends or neighbors. Please feel free to forward this with the stipulation that it may only be forwarded if done so in its entirety with no portions omitted. We would be delighted to share our comments and opinions with your friends and welcome your comments and feedback. If you received this and would like to be included on our newsletter list, please email us at info@geverswealth.com
Copyright 2022 William R. Gevers. All rights reserved.